"Mama, penge pera", I was surprised to hear my three year old ask for money. We have not introduced the concept of money to her yet but, kids are great observers. They learn from what they hear and what they see so it's important that we, as parents, guide them along the way and educate them. 
So, when is the right time to talk about money with your kids?
I did some research to see if it's already appropriate to educate my 3 years old about money and I was surprised to find out that it's actually okay to already introduce basic financial concepts to children as early as 3 years old, that is according to financial expert Fitz Villafuerte.
Our children already know that we need money to buy things so it's just right that we start educating them on how it works. This topic is usually covered at school but since we are all staying at home, and kids learn at home, might as well as start teaching them basic financial concepts. 
How do we teach our kids with basic financial concept? 
Talk to them. Nothing beats talking to your kids directly. As I mentioned, kids are great observers and you would just be surprised on how much they remember whenever you talk to them. You can explain how you make money, what money is for and how it can be used properly. 
Play Games. For kids, you can play with games such as monopoly. You can also use play money to help them understand better how money can be used. I have seen some posts in social media wherein play money are used at home as motivation for kids. They earn play money when they do a chore at home and they can use that play money to buy a snack in exchange. 
Take advantage of Teachable Moments. Watch out for situations that you can use to teach your little one about money and financial concept. It could be when they join you while you are working on your family's budget or when you encounter money talks situation while watching TV. Always be in the look out for opportunities to teach your kids. Explain to them how money works when you are buying something online or doing the groceries. You see, teaching kids about money can just be a part of your daily activity. 
But the talk should not stop there. We should also educate our kids on how to better handle money. Teach them lessons about when to spend and what to spend their money with and most importantly, let's teach our kids on how to save money.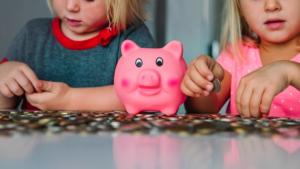 Open a Bank Account for your Kid
One of the best ways that your kid can apply these financial concepts is by having their own bank account. It encourages your kids to spend money wisely so they can save. It gives them a sense of responsibility too, in my opinion. 
How To Open A Bank Account For Your Kid?
It's actually easy! BDO makes it easy to open a Junior Savers Account with an initial deposit of as low as P100–an amount that is piggy bank-friendly! There's no need to stress over the requirements. You just have to visit the nearest BDO branch.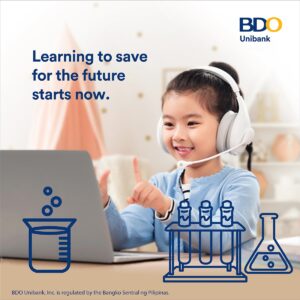 You can also set up a Junior Savers Plan that allows you to add to your child's initial fund by scheduling regular deposits using your BDO Online Banking account. Just set the amount and frequency for the transfer—all done conveniently online—and you are all set!
Start your kids young! Teach them about financial concepts as early as possible so you can prepare them and help them achieve a financially secure future.
Check out BDO Junior Savers Account now!
BDO Unibank, Inc.
BDO Corporate Center
7899 Makati Avenue
Makati City 0726, Philippines
Tel +63(2) 8840-7000