Convenience: that's one of the factors that I consider when it comes to choosing products that we use at home and the food that I prepare for my family. Being a work-at-home mom for 3 years now, I learned the importance of choosing products that are convenient yet are safe and healthy for my family.
Our time as parents is valuable, so I always veer towards processes that require less time and effort. The easier, the better.
As much as I love cooking, I honestly can't spend so much time doing it, so I always look for recipes that are easy and healthy for my family.
My little one loves potatoes! She eats mashed potatoes daily, so we always stock U.S. dehydrated potato at home. These high-quality dehydrated potatoes are real potatoes just without the water. It still contains all the flavor, nutrition, and versatility of potatoes in a more convenient package, thus, it's perfect for dishes like mashed potatoes! No need to spend time washing, boiling, peeling, or mashing potatoes. So easy, right?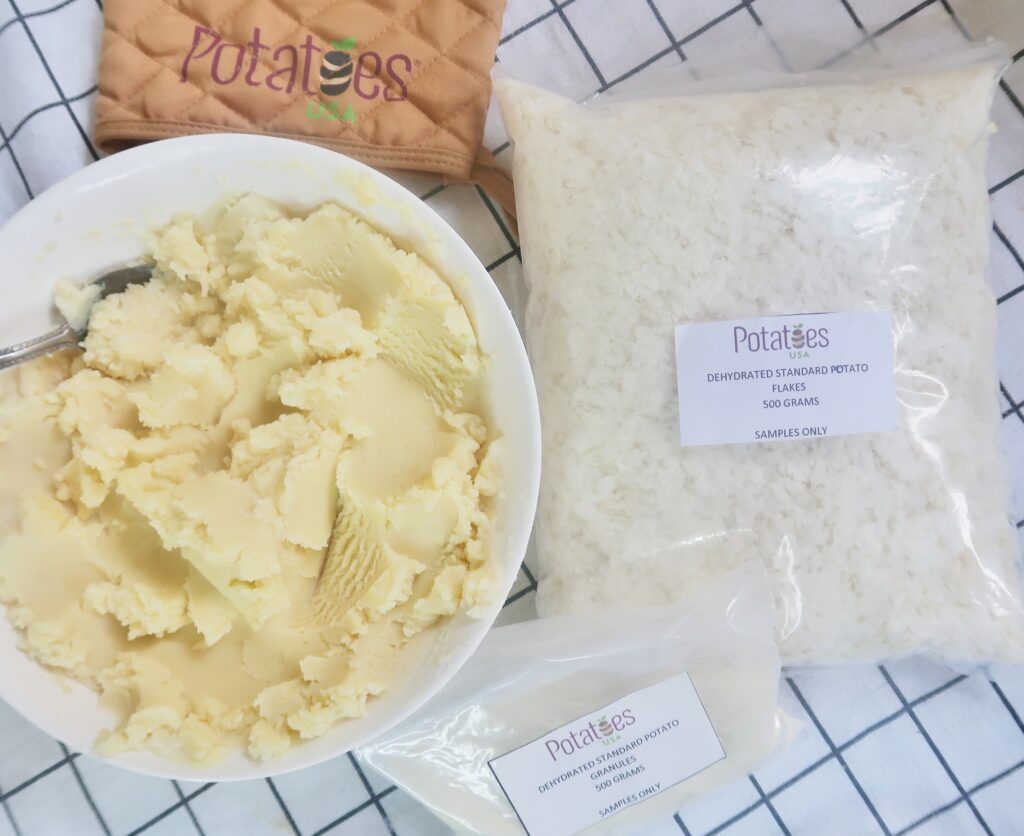 One of our favorite recipes using mashed potatoes at home is my Hearty Chicken Soup with Mashed Potato Dumplings. My family totally loves this dish especially when the weather is cold!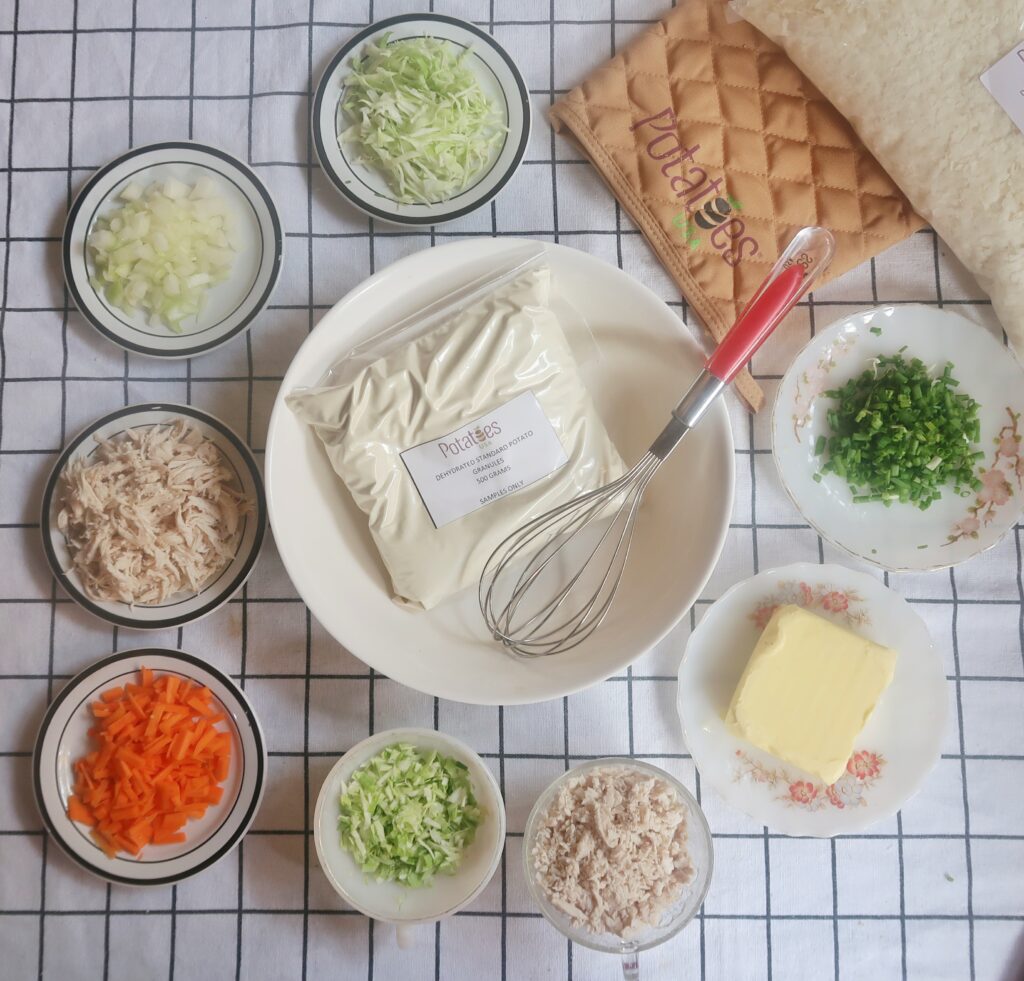 Ingredients:
200 mg U.S. Dehydrated Standard Potato Granules
2 cups chicken breast, shredded
1 cup spring onion, minced
1 medium onion, chopped
2 cups cabbage, chopped
½ bar of butter, unsalted
200 ml milk
5 cups water
Salt and pepper to taste
Preparation:
Boil the chicken then shred it into tiny pieces. Set aside the chicken broth.
Prepare the mashed potato using U.S. Dehydrated Potato Standard Granules. a. Bring water, milk, and salt to a boil.
b. Add potato granules to the liquid slowly, whisk for 1 minute. Turn off the fire.
c. Add the butter.
d. Scrape down the bowl and whip high speed until fluffy for 5 to 7 minutes.3.  Prepare the dumplings.
4.  Add spring onions, chicken, cabbage, and salt to taste on your mashed potato then mix well.
5.  Fold the dumpling wrapper to form a triangle.
6.  Scoop a tablespoon of the mashed potato mixture and put it inside the dumpling wrapper.
7.  Secure the edges of the dumpling by applying water to it.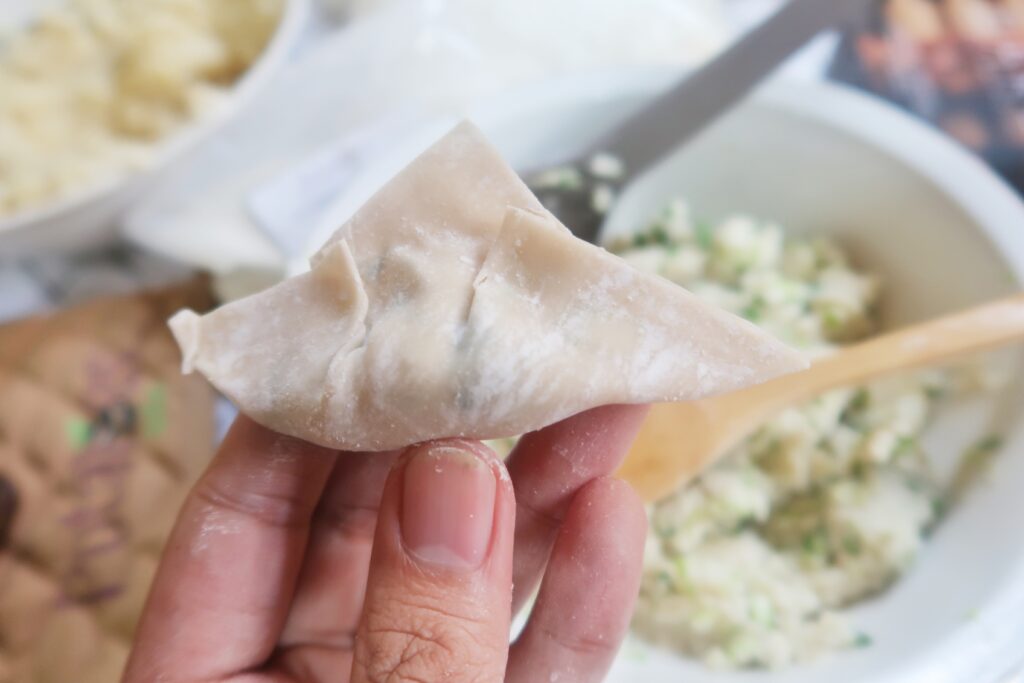 8.  Heat the chicken broth then add onions, carrots, and the shredded chicken.
9.  Once it's boiling, add in your potato dumplings one by one. Distribute it evenly in the pot.
10.  Gently stir the soup.
11.  Add the cabbage and spring onion.
12.  Wait until the Mashed Potato Dumplings Float on the soup.
13.  Serve this hearty soup hot. Garnish with chopped spring onion.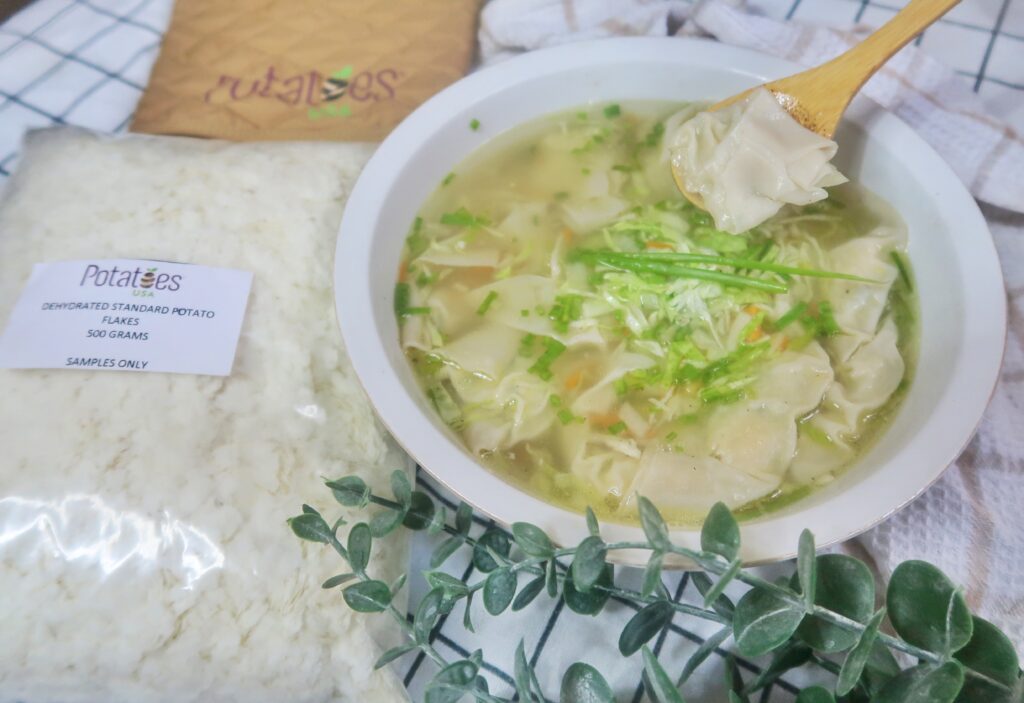 Potatoes are often overlooked for their nutritional value, but the fact is, they are absolutely healthy! A medium potato with skin on (148 grams) is an excellent source of Vitamin C, has more potassium than a banana, 3 grams of protein, and 2 grams of dietary fiber. The potato also contains no cholesterol, no sodium, and no fat. It's gluten-free, too!
A serving of potato has 110 calories and 26 grams of complex carbohydrates. Complex carbohydrates are the "good" carbohydrates. Our bodies need them because they are the primary fuel for the brain.
I am so glad everyone in the family love spuds! Thanks to Potatoes USA, they are available in three forms here in the Philippines: fresh, frozen, and dehydrated. You can get them in stores nationwide.
My current favorite is U.S. dehy, but U.S. fresh and frozen are just as fun to cook with! Try them all now. 🙂
For more info:
#potatoesusaphl #potatoesusa #PotatoGoodness #PotatoGoodnessPH #CookingWithUSPotatoes #EverydayUSPotatoes #MommyBloggersPH