When it comes to taking care of the family, Moms (and dads, too!) will always find a way to make sure she's on top of everything, no matter what circumstance.
And their secret? Moms tap into their diskarte when exploring ways to support their families, like starting a business that they can sustain in the long run. 
We see this with Filipino families finding new ways to earn despite the lockdowns, with a whopping 4,000 percent increase in registered online businesses in 2020.
Surf, the country's leading laundry brand, recognizes the mothers' diskarte and now aims to enable these moms and their businesses through comprehensive and interactive entrepreneurial courses. These courses will teach moms how to start their own negosyo and be their own boss – especially through online means.
A year of your time, a business for life
Surf has partnered with FHMoms, the biggest mom-trepreneur digital community to introduce the first ever Surf Wais University, a free entrepreneurial program for aspiring mom-trepreneurs.
Surf Wais U is designed to teach you everything you need to know to establish your own busines venture. Webinars will be set every month for the rest of the year, covering multiple mom-treprenurial topics, requiring only an internet-ready device and your motivation to succeed.
Surf Marketing Manager, Raiza Revila, explains, "Following decades of providing sulit and quality laundry solutions for Filipino moms, we recognize the diskarte of our wais nanays. And through the pandemic and the hardships every mother had to go through, we thought it's time to give them a better foothold to provide for their families. Through Wais U, we can teach them how to establish their own business and make it flourish through modern practices, techniques, and processes."
Wais U welcomes all aspiring mom-trepreneurs
Every kind of mom is free to join! Be it a stay-at-home mom who wants to earn extra income, a full-time employee who wants to be her own boss, a returning OFW with ready-to-invest capital, or even a traditional business owner who wants to learn more about growing the business.
Enrolling in the program will help you identify the differences between traditional and digital businesses, so you can find the entrepreneurial model that best fits what you want to do or sell. Courses also cover how to manage your finances and government requirements and touch on sales practices and marketing techniques that can effectively expand your businesses in digital platforms.
The Rise of Filipina Homebased Moms
Surf's Wais U is designed in partnership with the top mom-trepreneur Digital community, Filipina Homebased Moms (FHMoms).
At the helm of the program is MK Bertulfo, a working mom herself, who established the Filipina Homebased Moms community on Facebook which is now more than 365,000 strong. The community has been helping moms by providing opportunities online suitable to their individual lifestyles.
Following her advocacy to help fellow moms to earn enough for their families, Mommy MK will be using her knowledge and experience to teach enrollees the best ways and practices to establish their own businesses, one mom at a time.
"Being a mom myself, I wanted to make sure other moms can have more opportunities to provide for their families," Bertulfo shares. "That is why I'm very excited for this partnership between Surf and FHMoms, because I know more women will be able to pull themselves up and lead a better life for their loved ones."
Register for Wais U now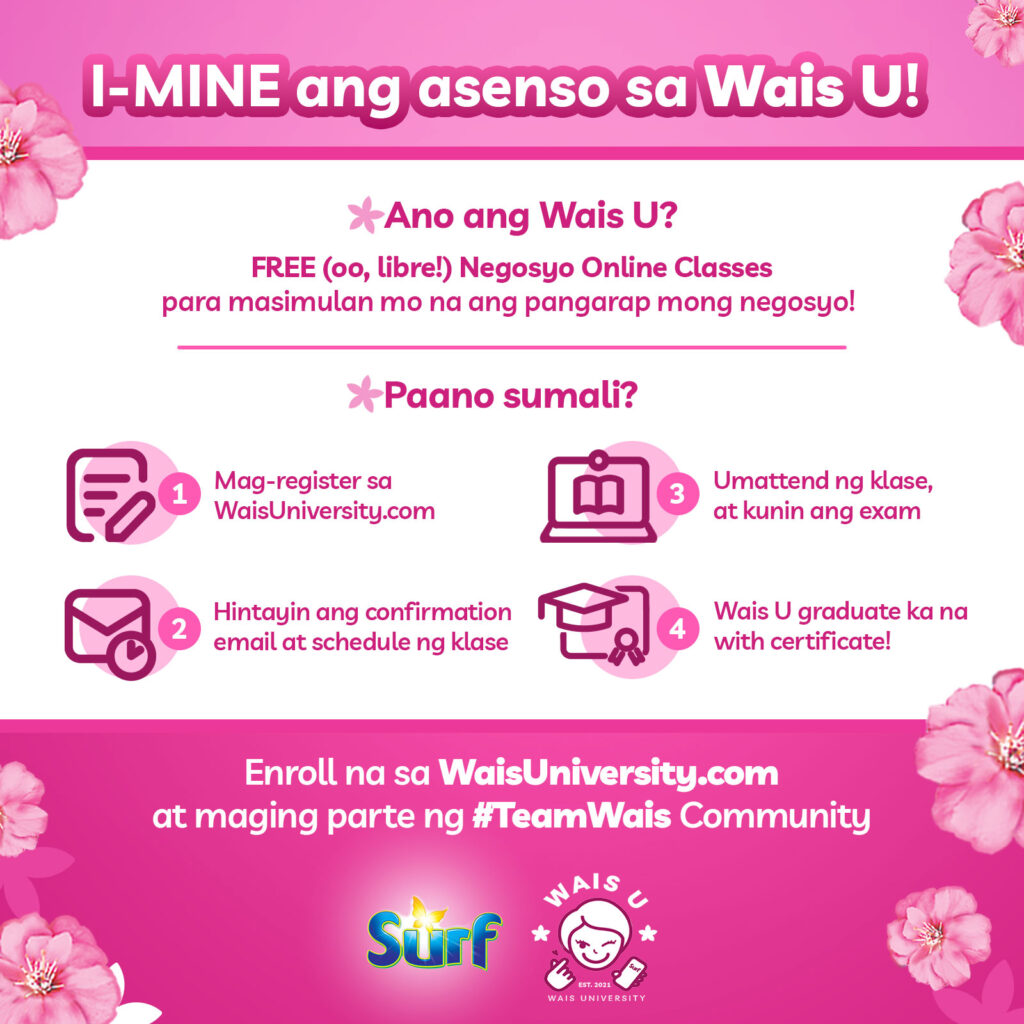 As Surf Launches its first-ever Wais University, moms will be able to fully take the spotlight and further unleash their diskarte and wais-ness!
To all #TeamWais moms, Go and pursue the venture that you want and deserve! Get valuable knowledge and skillset from Wais U and learn from successful entrepreneurs and professionals that will help you understand the ins and outs of a flourishing business.
Sign up at https://waisuniversity.com/ and start your Wais U journey today! Registration is ongoing! Batch 1 starts February 18.