Vaccination help saves lives, we have witnessed this during the COVID-19 pandemic and over the course of the 20th century, improved health outcomes such as increased child survival, reduced deaths due to infectious diseases, and longer life expectancies may be attributed through immunization.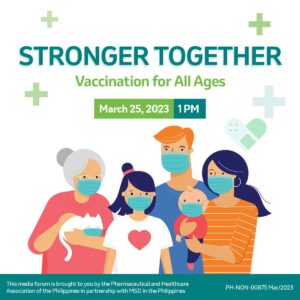 The Pharmaceutical and Healthcare Association of the Philippines (PHAP), in partnership with MSD in the Philippines, held a media forum aptly titled "Stronger Together: Vaccination for All Ages" at the EDSA Shangri-La Manila on March 25, 2023. This is to bring to focus the importance of immunization in the lives of Filipino families and to raise awareness on the long-term benefits of immunization to society.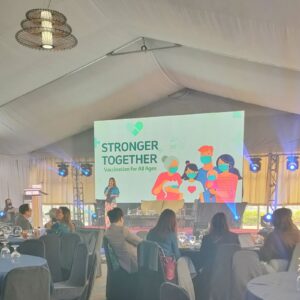 This media forum is part of the Department of Health's pre-World Immunization Week activity and I'm glad to have attended it. It was hosted by journalist and health advocate Jing Castañeda. This kickstarted the countdown to World Immunization Week, a global observance celebrated every last week of April to promote the importance of vaccines for all ages.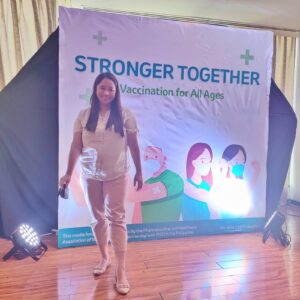 The theme for this year's World Immunization Week is "The Big Catch Up," which highlights the need to prioritize vaccinations that were halted due to the pandemic.
Indeed, people don't need to wait for World Immunization Week to start raising awareness about the importance of vaccines in safeguarding the health of millions worldwide. As the world learned in recent years, health and safety are interconnected, and no one is truly immune or protected from a disease until everyone is protected from the said disease – so speak to your healthcare professional about vaccination now, especially if you are part of the at-risk population.
Empowering households with vaccine information
During the media forum, scientific leaders such as Dr. Paul Van Buynder from the Australia Immunisation Coalition (AIC), Prof. Tikki Pangestu from the Asia-Pacific Immunization Coalition (APIC), and Dr. Rose Capeding from the Philippine Foundation for Vaccination discussed the value of vaccination for the whole family.
Vaccines may help save lives by preventing certain diseases, reducing direct and indirect health costs on national health systems and households. Vaccines are cost-effective and are one of the core components of preventive health services packages. Thanks to vaccines, children are protected from diseases that were once top killers and disablers worldwide, such as diphtheria, whooping cough, tuberculosis, smallpox, polio, and measles.
More importantly, vaccines may help prevent the spread of disease among family members and neighbors, leading to healthier communities. Additionally, immunization may help prevent the transmission of certain diseases from one generation to another, freeing the next generations from the burden of certain diseases.
Families that get vaccinated together stay healthy together. If one person gets vaccinated, not only are they protecting themselves, but they are also helping protect their families, communities, and future generations. With the help of immunization, Filipino families may enjoy longer, healthier, and more fulfilling lives together.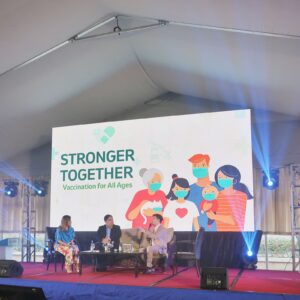 Promoting a life-course approach to immunization
In this multi-stakeholder discussion, other health leaders and experts including Dr. Janis Bunoan – Macazo from the Department of Health (DOH), Prof. Nina Castillo-Carandang, Ph.D from the Department of Clinical Epidemiology, College of Medicine, University of the Philippines Manila, Dr. May Montellano from Far Eastern University – Dr. Nicanor Reyes Medical Foundation, and Ms. Carmen Auste from Cancer Coalition Philippines and Cancer Warrior Foundation tackled how to build stronger confidence in vaccination across different life stages.
As new vaccines are developed and tested, they will continue to be a vital tool in helping prevent certain diseases for various age groups. A life-course approach to immunization states that access to vaccines and vaccination schedules must align with an individual's life stage, lifestyle, and the specific risks and vulnerabilities related to these factors.
As such, immunization is not limited to infants. At every life stage—from infancy to adolescence to adulthood—one must receive specific vaccines to protect them from certain life-threatening diseases.
Specific vaccines are intended for each family member at every phase of their lives.
For example, it is recommended to secure infant immunization against measles, mumps, rubella (MMR), and diphtheria. Meanwhile, for adolescents, it is recommended that girls aged 9 to 13 receive immunization against the human papillomavirus (HPV), the leading cause of cervical cancer.
While immunization at an earlier age is preferred, adult males and females aged 18 years and up may still get HPV vaccines to help build protection against HPV-related diseases and cancers. Additionally, pneumonia vaccination is recommended for the elderly and other at-risk groups living with diabetes, heart disease, and other chronic illnesses.

Building a stronger network for vaccination
The need to create a stronger national healthcare system through vaccination was the focus of the discussion participated by Dr. Arthur Dessi Roman from the Philippine Society for Microbiology and Infectious Diseases (PSMID) and Bryan Posadas from the PFV.
For developing countries like the Philippines, good population health is fundamental for social development and economic growth. Vaccination is a vital component of public health programs, and routine immunization forms the foundation of resilient health systems and universal health coverage.
Immunization remains one of the most cost-effective methods to help prevent the spread of certain infectious diseases across populations, helping save millions of lives every year.
Aside from safeguarding the health and safety of the population, vaccination is also a source of high investment returns for the government. While the economic benefits of improved health outcomes remain largely underestimated, the yearly return on investment in vaccination alone is between 12% and 18%.
The good news is multiple channels available where patients can get their vaccines. Apart from hospitals and clinics, adults can also visit their local pharmacies to get vaccinated. At the same time, under the DOH's National Immunization Program, there are free vaccination programs under the local government units (LGUs), especially free pneumonia vaccines for the indigent elderly. Meanwhile, through the School-Based Immunization Program (SBIP), female public school learners in grade 4 who are 9 to 13 years old may avail of the free HPV vaccines from their school or nearest health center.
You can watch the Facebook Live here.
So, what are you waiting for? Don't wait—speak to your doctor about vaccination now!