What do you do to keep your kids from getting sick? As parents, I'm sure that we try our best to make sure that our kids are healthy and safe especially since kids don't get vaccines against COVID yet.
Aside from staying safe at home and eating healthy food, another way to boost our kid's immunity is by giving them the right milk.
BONAKID PRE-SCHOOL 3+ lang ang may TRIPLE BOOST FORMULA na nagbibigay ng Laban ng Katawan. Sa panahon ngayon, need nating palakasin ang ating immunity, energy, at growth para sa mga mahal nating anak kaya bigyan na sila ng BONAKID PRE-SCHOOL 3+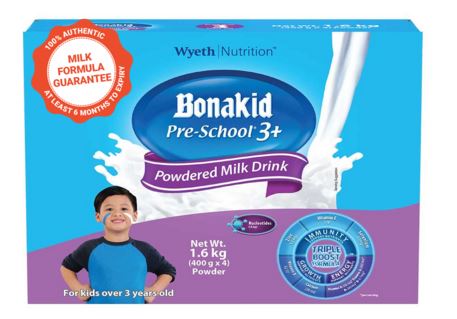 IMMUNITY NUTRIENTS:
• High source of Vitamins C & D
• A source of Vitamin A
• High source of Vitamin E which contributes to the protection of cells from oxidative stress
• High source of Iron & Zinc
• Now a source of Selenium
• Contains antioxidants Carotenes & Lutein
ENERGY NUTRIENTS:
• High Source of Vitamins B1, B2, B3, B6 & B12
• Contains Vitamin B7
GROWTH NUTRIENTS:
• High source of Protein
• High source of Calcium, Vitamins D & K
• Contains Manganese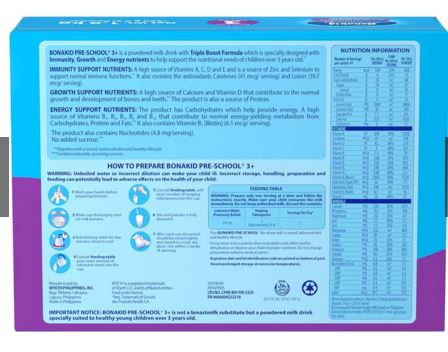 Help your child become a Batang May Laban!
I always make sure to stock up on my child's needs during big sale because it saves a lot of money in the long run.
So, add-to-cart now and check out on Shopee during 12.12 to get up to 40% Off
https://shopee.ph/Bonakid-Pre-School%C2%AE-3-Powdered-Milk-Drink-1.6kg-i.77359328.4706611211?sp_atk=09190165-0f0e-4370-8c61-6a5ce29ee3c2
Important Reminder: For children aged 3+. Not suitable for use as a breastmilk substitute. Per DOH-FDA CFRR Permit no. 0392 s. 2021