Hello! I hope you are safe and healthy during these difficult times.
It has been a few months now since COVID-19 hit the world hard.
Despite that, we all try to be hopeful and continue living our lives while adapting to the #NewNormal
Anyway, my husband and I have been staying at home for the last 3 months.
We only go out when it's necessary and follow strict hygiene and sanitation process to make sure we don't bring and virus at home.
With so much time on our hands, we also decided to work on a few things we have been putting behind for the last few years, one of which is finally getting an insurance policy!
I have been in contact with our former college professor and was supposed to meet her last February so she can discuss the details of getting an Insurance from Sunlife. However, due to the community quarantine taking effect and for everyone's safety, we were not able to meet.
Anyway, I was happy when she informed me that they can process my insurance online so we didn't have to meet up! Through a Zoom Meeting, my professor was able to discuss with me the different options that I have and tailored insurance that fits me. I signed up the form, made a payment and my insurance policy was approved.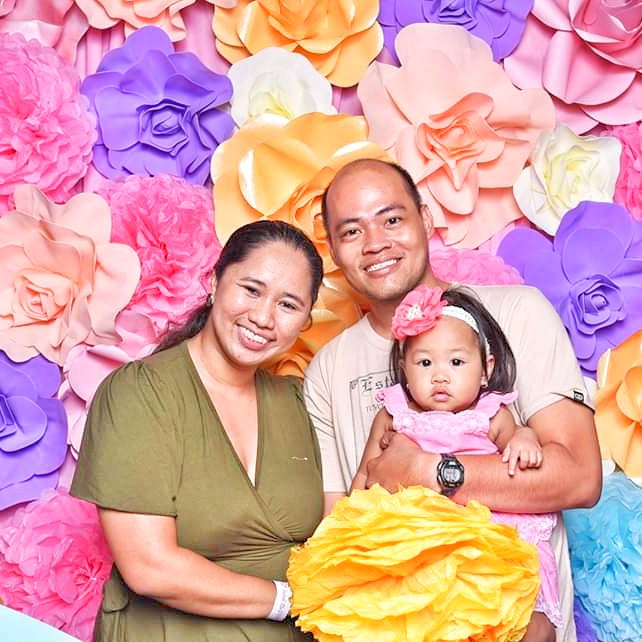 I just realized that a lot of unforeseen things can happen so I want to make sure that I protect my loved ones by giving them a financial safety net that they can rely on.
I know this topic is avoided by many, but, getting insurance gave me the peace of mind that I needed so I'm happy that I did it.
The other day, I attended a virtual press conference of Sun Life "Rise Together to a Bright New World."
In an aim to empower Filipinos to get back on track in their financial goals, as well as their health and wellness aspirations and as a part of Sun Life's annual commemoration of Financial Independence Month every June, they launched this campaign. It features initiatives ranging from online financial literacy sessions to digital tools.
Sun Life Chief Marketing and Client Officer Mylene Lopa shares that "through this campaign, we want to show Filipinos how they can emerge from this pandemic stronger, healthier, and financially resilient, so they may look forward to a brighter tomorrow."
A pioneer of financial literacy multimedia campaigns, Sun Life has also launched Sun Talks, a series of online financial literacy sessions held in webinar format and as Facebook live streams.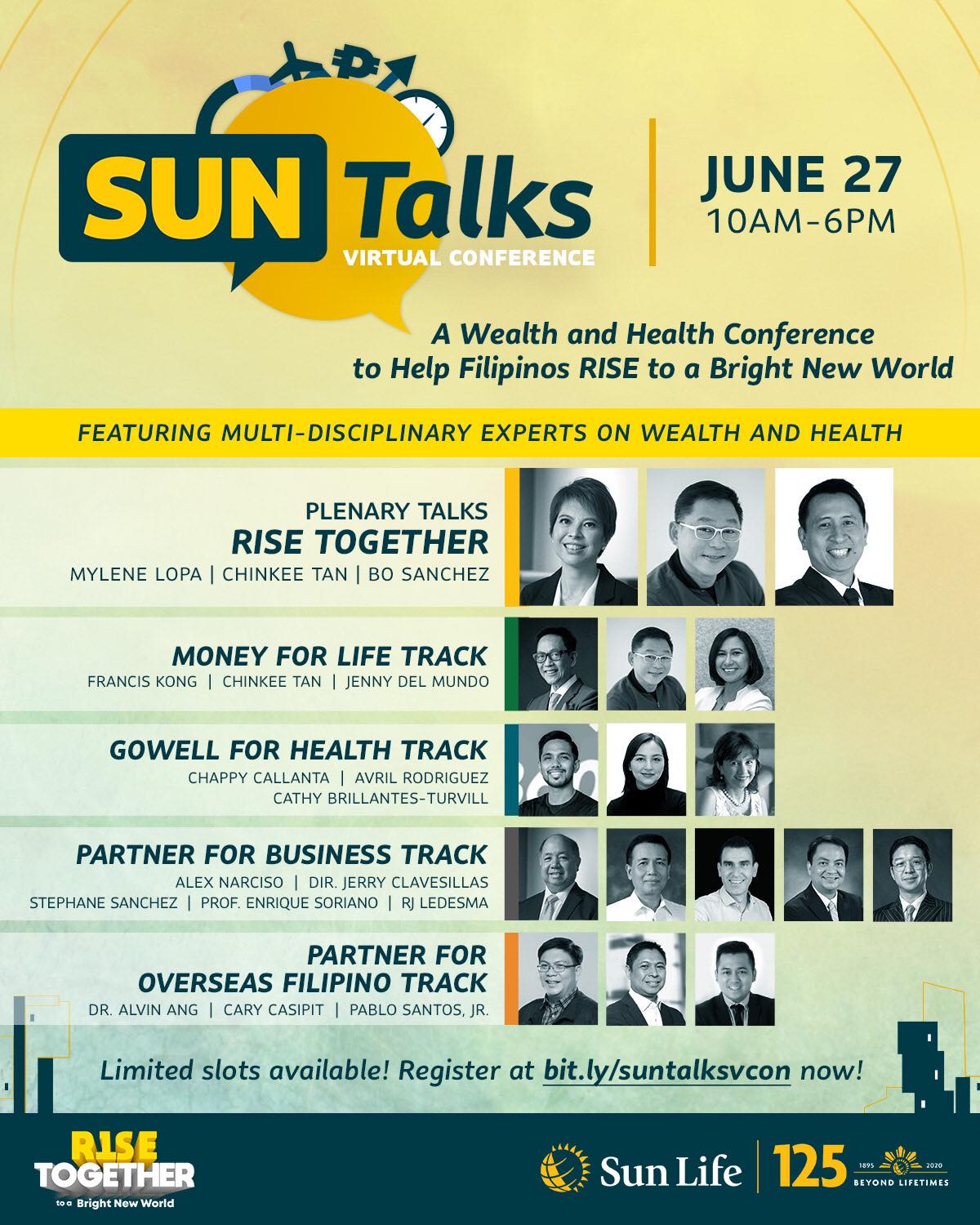 Check out this FAQs if you have any questions about #SunTalksVcon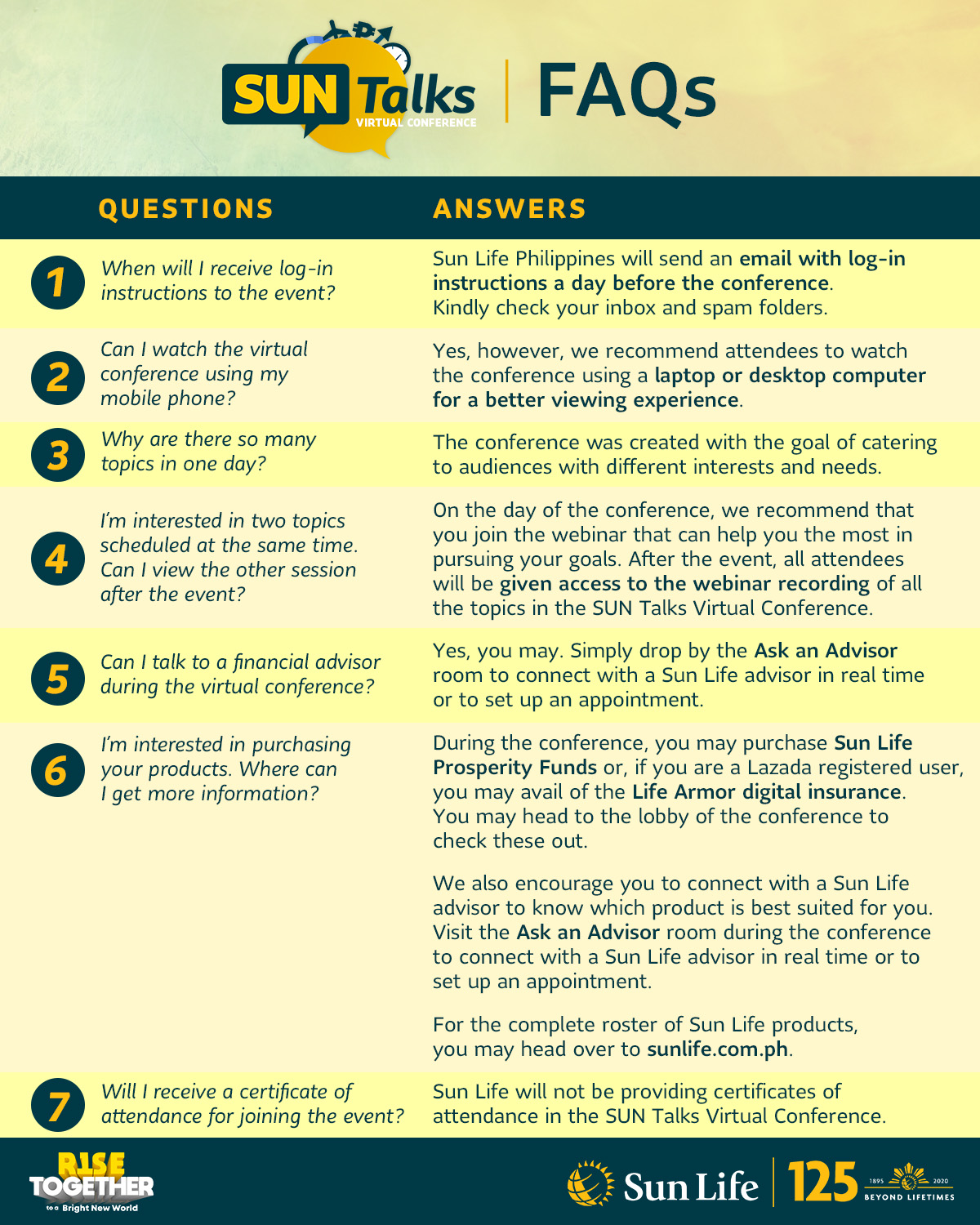 You can even win awesome prizes when you join!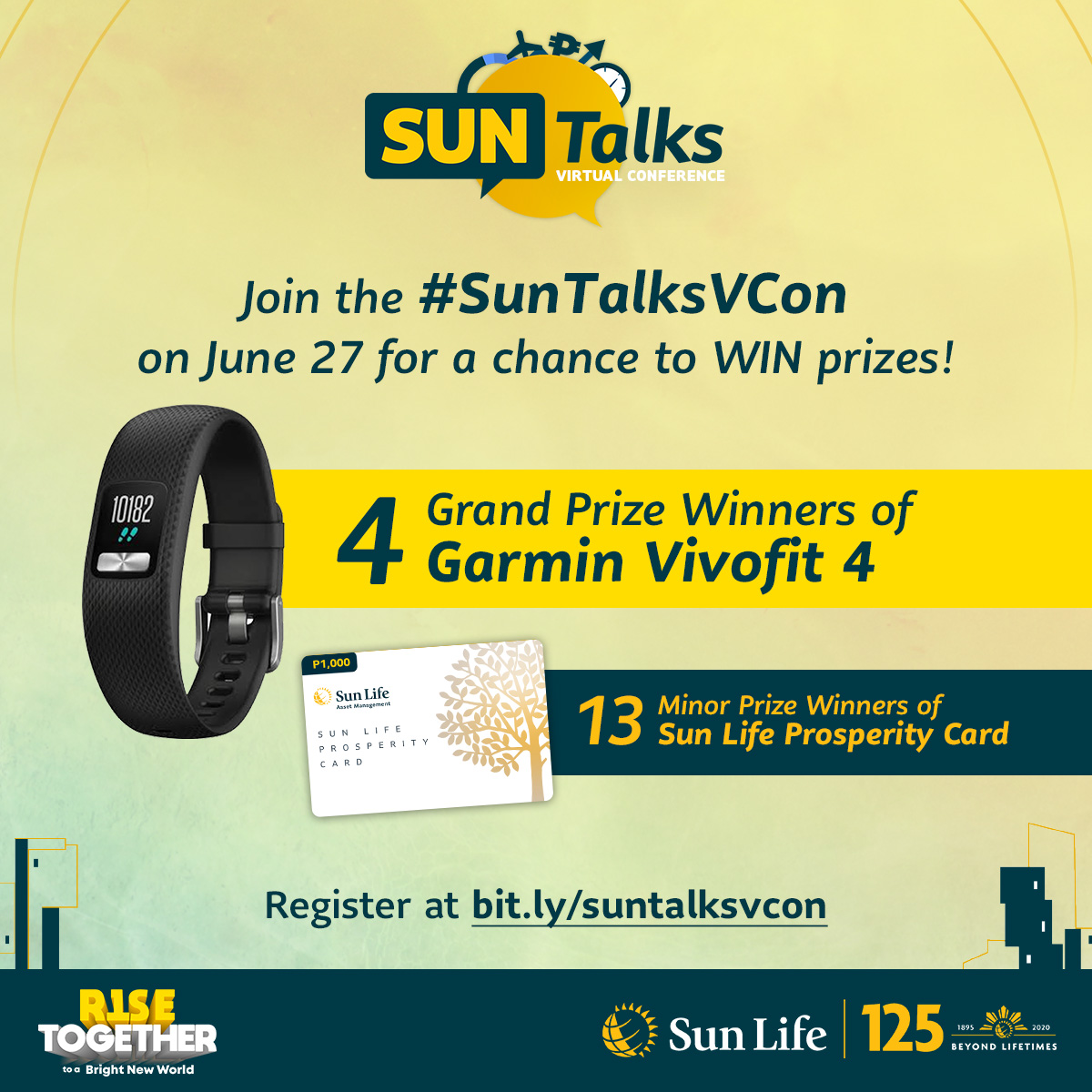 Here are the details of the webinars!
Their new set of #SunTalks will happen tomorrow, June 27. They gathered thought leaders on the topics of life coaching, finance, wellness, entrepreneurship, and financial planning for OFWs ⁠— in one big digital forum so this is something that you shouldn't really miss! Plus, it's a free event.
Secure your slot now via bit.ly/suntalksvcon because slots are limited. #sunliferisetogether