We all want to be the "wais na nanay" so we try hard to choose the best yet still affordable products for our babies. I'm not sure about you but despite having some products that work for my baby, I still try out other brands every now and then especially when it's more affordable because kung merong mas mura na mas maganda, why not? We only find out by trying.
Anyway, Playful Baby sent us some of their products and I was really excited to try it out. We have already used their wipes in the past and loved it but we haven't tried their diapers. Allyka doesn't really have sensitive skin so I feel confident in trying it out.
Here are their products and my review about it:
Playful Hypo-allergenic Baby Wipes
Unscented
Alcohol-Free with loads of Aloe vera and Vitamin E
➡️ I love it! I love that it's thick, cloth-like material and the fact that it's loaded with Aloe vera and Vitamin E which are good for our skin. Allyka didn't have any allergic reaction nor rashes while using this so I highly recommend it.
➡️ It's also very affordable considering that the regular price is just 80 pesos for 90 sheets.
➡️ I also love the packaging and the fact that it's easy to pull out wipes without pulling out too many wipes at the same time. (YES. That's a factor for me)
Playful Anti Bacterial All Purpose Wipes
Anti-bacterial
Paraben-free
Loaded with aloe vera and vitamins
Unique rose petal scent with floral extracts that nourishes into the skin's layers
➡️ Love the fact that it's anti-bacterial so I can use it on cleaning baby's stuff or when we're outside, especially when cleaning surfaces that Allyka would touch (e.g. high chair, toys, tables)
➡️ Not a fan of scented wipes but this is also thick and has a cloth-like texture just like the unscented wipes.
➡️ Regular price is 85 pesos for 90 wipes which is a little more expensive as to compare with the unscented. It's still more affordable compare with other brands though.
➡️ Love their small packs of 15 wipes. It's so handy, it fits in my small bag.
Playful Baby Diaper Dry with EZ Tape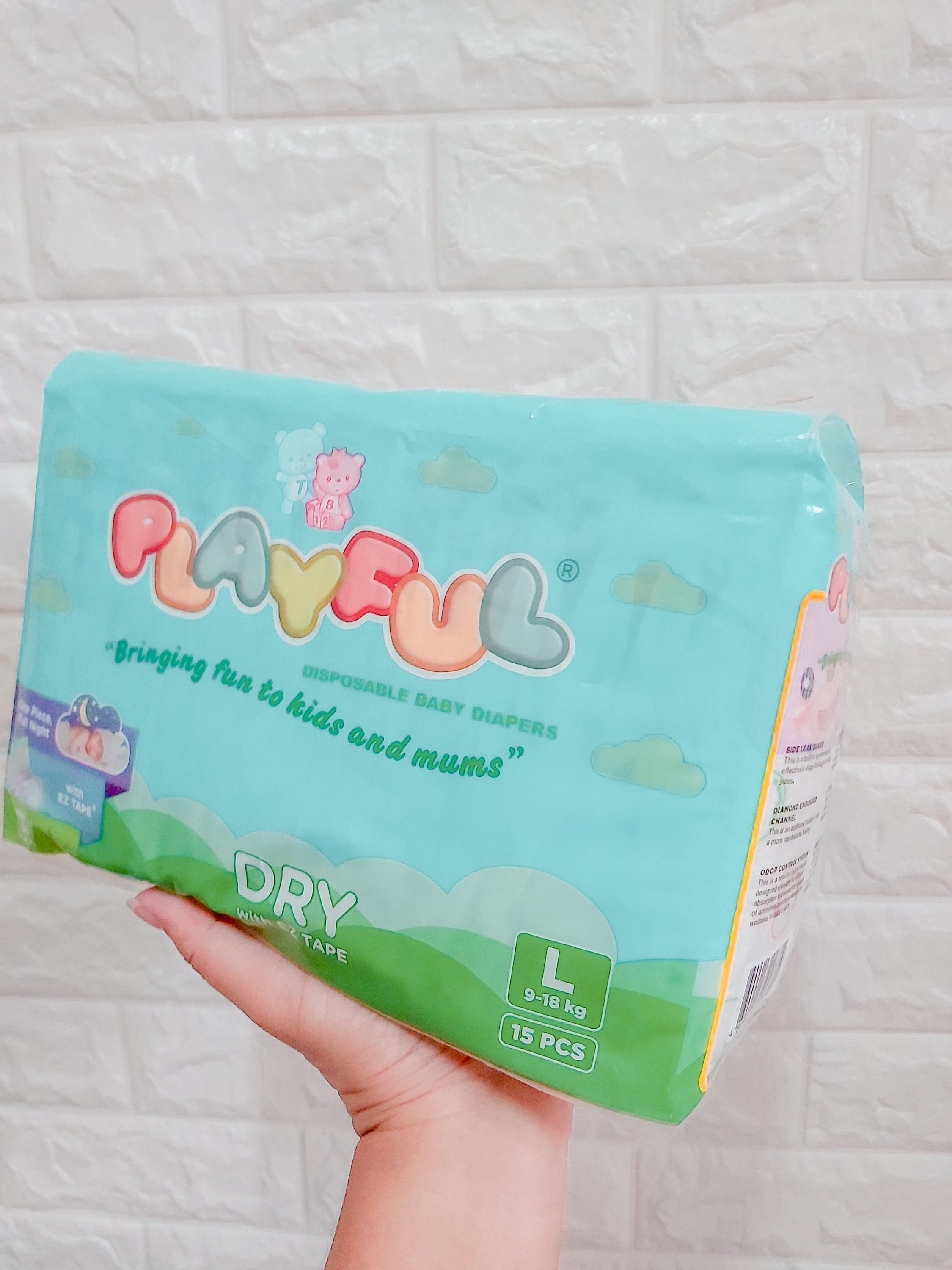 Odor-control system
Loaded with Aloe vera and Vitamin E
Super Absorbent
➡️ I agree with the cloth-like material which is good since it doesn't irritate Allyka's skin.
➡️ The Velcro type is nice and I love the fact that it's loaded with Aloe Vera and Vitamins too.
➡️ We didn't experience leakage since Allyka has used it but we haven't tried using it during night time so I'll update this blog to let you know if the One-piece full night feature is true.
➡️ It's affordable! A pad of large is just around 7 pesos compare with other brands that are around 10 pesos.
A lot of my friends have already been talking about Playful Baby Diapers and Wipes and how they love it so I'm glad to have given it a try. It's definitely nice to support a local brand too!
Playful Baby Diapers and Wipes are available at Lazada, Shopee, Puregold, Landmark, Super8, Isetann and Pioneer Center SuperMart so go check it out!
Also, check them out at Shopee 9.9 today because they are on a huge sale!! Perfect time to hoard mommies! 🙂
Have you already tried Playful Baby diapers and wipes? Let me know what you think of it in the comments below!
Love,