Both COVID-19 and non-COVID-19 patients battling any of the Philippines' top chronic non-communicable diseases can now resume regular consultations with their doctors via various means.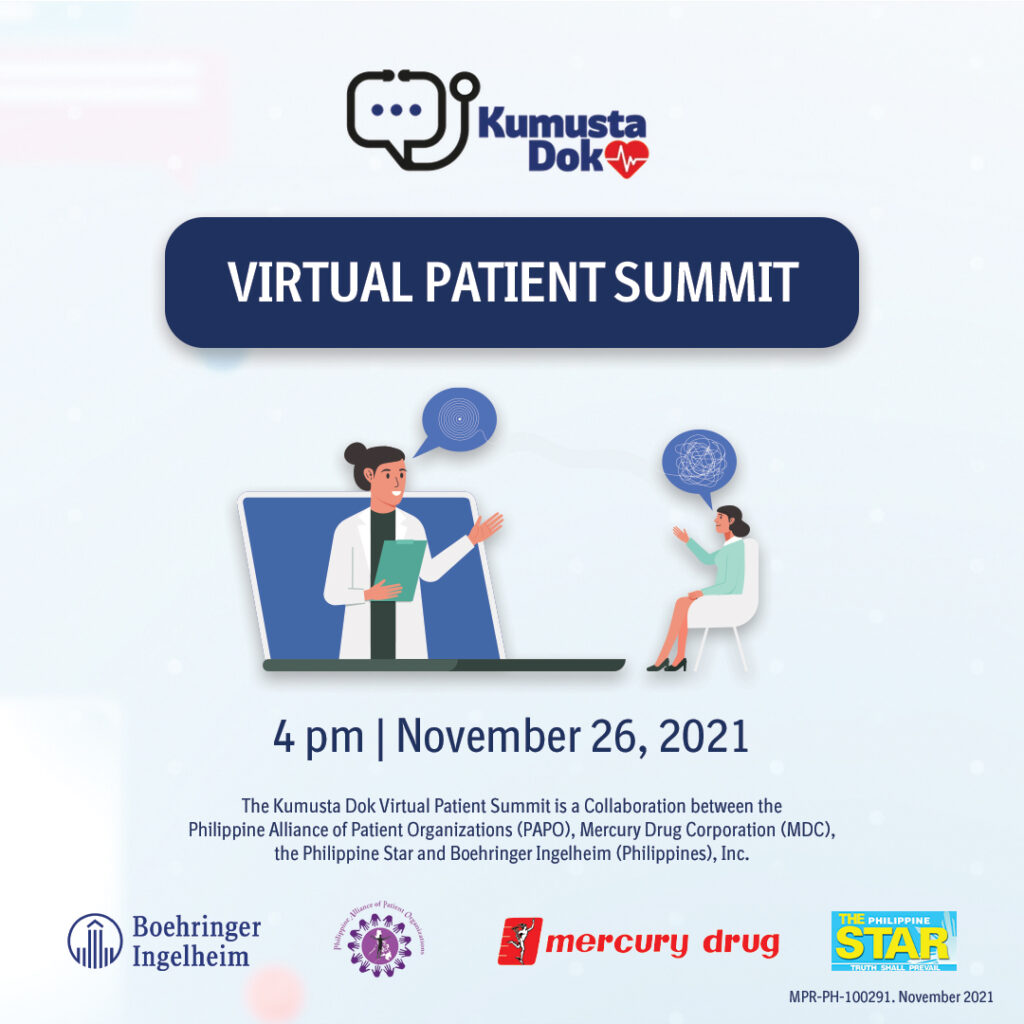 This issue will take focus in the upcoming Patient Summit, a free interactive virtual event organized through the collaboration of the Philippine Alliance of Patient Organizations (PAPO), Mercury Drug Corporation (MDC), and Boehringer Ingelheim (Philippines), Inc.
The Patient Summit aims to address the pain points patients encounter during the COVID-19 pandemic when seeking medical attention for diseases that remain deadlier than the virus, namely heart diseases, cancer, stroke, diabetes, and pneumonia.    
According to a report by the Philippine Statistics Authority, in 2020 alone, 100,000 Filipinos died from heart disease, over 60,000 from cancer, almost 40,000 from diabetes, roughly around 35,000 from pneumonia, and 25,000 from hypertension.
Based on a SWS survey of 1200 adults across the country, 91% of Filipinos fear contracting
COVID-19. Due to fear of contracting COVID-19, non-COVID-19 patients deferred preventive and routine health check-ups.
Event attendees will get to learn the various technologies and guidelines healthcare professionals and facilities are adopting to make patients of chronic non-communicable diseases feel comfortable seeing doctors once again.  
The Patient Summit will happen on November 26 at 4pm. Those who wish to attend can watch it live on the Facebook pages of Philippine Star or Mercury Drug Corporation.
This is an initiative of Kumusta Dok, an advocacy which aims to empower patients to reconnect with their doctors during the new normal, and to increase awareness to the risk factors, signs, and symptoms of the top causes of mortality in the Philippines, which includes heart diseases, cancer, stroke, pneumonia, and diabetes. The program also gives tips and updates on the channels available for patients to strengthen their partnership with doctors throughout their health-seeking journey. It shares efforts being done by healthcare facilities that ensure the safety of patients and healthcare staff.