This is one of the most common questions that I get whenever anyone finds out that I work at home and honestly, as much as I want to give a detailed answer on how it can be done, I mostly end up just giving a few tips and advice because I don't have a ton of time to answer all questions (motherhood takes most of my time, you know). 
Also, I'm no expert on this, I have only been working at home for barely two years now so I'm not sure if I have enough information to share but, I realized there's really no harm in sharing a few knowledge especially if it can potentially help other people achieve freedom in their lives by working at home.
But, before I answer the main question, "How to Become a Work at Home Mom", I want to clearly define first what it means to work at home. 
What does it mean to "Work at Home?"
The Cambridge Dictionary defines working at home as "An arrangements in which employees work in their own homes, rather than in an office"
Working at home, therefore means, you are working for a client, a boss or an employer without the need to leave your home. You can work remotely through your desktop computer, laptop or cellphone which makes the set up convenient for parents 
What are the benefits of working at home?
Working at home entails a lot of benefits but below are some of the obvious reasons. 
More time with your kid/s

– You can see your child grow, witness every milestone and be there for them 24/7. This is probably the dream of every mom/parent out there. We all want to be there for our kids and watch them grow but, the reality is, we also need to earn money so we can give our kids a better future. With working at home, you can enjoy the best of both worlds. 🙂

The best feeling in the world ❤

Goodbye Traffic and Long Commute Hours – Let's face it. The traffic in the Philippines is the worst! I used to spend 4 to 5 hours of commute every day when I was still single but now that I'm a mom, every minute of my time is important. I'd rather give that extra 4 hours of my life to my little one instead of being stuck in a traffic jam.
Better Pay

– Some work at home jobs surprisingly pay better than the regular jobs. If you're really good with time management, you can work with multiple clients at the same time to double or even triple your income.

Save Money on Childcare, Travel Expenses, Clothes, Eating out and other expenses

– Working at the comfort of your own home means you don't really need to dress up, heck, I work on my pajamas at times 😛 So

, no need to buy uniforms, nor a lot of outfits. No need for any commute allowance nor to eat out a lot because you're at home most of the time!  (Pro Tip: Try to avoid Online Shopping Platforms or Food Delivery if you can)

Flexible Working Hours

– Depending on your job or your client, there's a possibility to work on flexible hours. That means, you only work when you can and take a break or a day off whenever you want to.

I can take a break whenever I want to and whenever I need to.

The Freedom to do something that you Enjoy – Working at home means getting more time for your family and for yourself so you might as well as use that extra time to do the things that you love.

I, for instance, wanted to start a blog since I was in high school but I never had the "time" to work on it. When I started my work at home journey, I also made a decision to follow my passion by starting a blog. One of the best decisions that I have made in my life.

Learn New Skills – Doing a variety of tasks, the opportunity to learn new skills is endless.
I can give you more reasons why working at home is beneficial to moms but I know for sure that Reason #1 is already a good enough for every mom out there so I'll just leave it here. 
Now that you already know what it means to work at home and the benefits. I can finally answer the question that I usually get.
How to become a work at home mom?
Determine the right job for you
What kind of job do you want to apply for? What kind of job are you comfortable doing? What is suitable for your situation? There are a lot of jobs out there waiting for you. But, before you go on sending out resumes to clients, I highly recommend that you figure out first the best fitting job for you to get a better chance of being hired. It's tough to classify all work at home jobs but here are a few that I know of.
Types of Working at Home Jobs
Virtual Assistant – This one of the most popular among all the work at home jobs out there. Wikipedia defines a virtual assistant as "A self-employed and provides professional administrative, technical, or creative (social) assistance to clients remotely from a home office" There are also different types of virtual assistants but below are the popular ones:

Virtual Admin Assistant –  A general assistant performs administrative tasks such as answering emails, making travel arrangements. scheduling meetings, and other random tasks that your client may give you. 
Social Media Manager VA – Manage social media accounts of people or businesses such as creating and curating content (images, video, written and audio/podcast). Responding to messages, comments, and creating marketing projects to reach target customers. 
Ecommerce VA – Helping a  client with an online store. It can be an online store on any platform but the most popular ones are Amazon, Shopify, eBay, and others. Tasks may include research, excel work, product image editing, product listings, optimizing product lists, managing pricing and inventory, fulfilling orders, processing returns and exchanges, bookkeeping, and handling customer support, and others. 
Real Estate VA – Working with a Realtor, you may perform various tasks such as Property Research, Verifying and Setting up Appointments with Buyers/Sellers, Post, Design and Maintain Listings, Responding to Email and Live Chat Inquiries, Managing your Social Media Presence, Others. 
Research VA – If you are looking for project-based jobs, there are clients that would only require you to perform internet research and pay you for it. 
Data Entry VA – Some project-based jobs would only require you to enter certain information on a system and pay you for it. 

Online English Teacher – If you are comfortable talking in English or teaching kids, you can easily get a job as an Online English Teacher. Most of the students are Asians such as Chinese or Japanese who want to learn the English language.  Some of the popular companies that you can check out are 

AcadSoc ,

RareJob , 51talk.
Call Center Agents – If you have experience working as a Call Center Agent, it would be easier for you to get the same job. The only difference, of course, is that you take phone calls at home. Getting a job like this means taking phone calls to answer customer service issues or making outbound calls. It can also involve making a sales pitch or troubleshooting technical issues. 
Freelance Writer – Writing content for blogs, businesses, and others. This is a good project-based job. 
Proof Reader – Proofread materials for spelling, grammar, punctuation, syntax, usage, consistency, and brand voice. 
Transcriber/Transcriptionist – Transcribers create written versions of audio or video recordings, meetings, and conversations. This job involves listening to audio and translating it into long-form text, reviewing drafts of written transcriptions, and liaising with clients to make sure they're happy with the final documents. Source:

Job Hero

Graphic Artist – Create visual concepts normally using computer software
Video Editor – Editing and assembling recorded raw material into a suitable, finished product ready for broadcasting.
Web Developer – A Web Developer is responsible for the coding, design, and layout of a website according to a company's specifications.
There are a lot of other different jobs out there so it's really a matter of finding out what you want to do or what you think you are capable of doing. If you're still confused about what's the right job for you, below are some of the factors that you need to consider in choosing a job. 
Factors to consider in figuring out the perfect job for you:
Interest

– What do you want to do? Do you love writing? Talking to people? Teaching? Do you love creating content for your social media account? People tend to find more success when they focus on a job that they really like so try to focus on your interest. 

Skills

– What are you good at? Do you know how to use Adobe? Final Cut Pro for video editing? Are you good at writing? Teaching? You get a better chance of getting hired if your skills are aligned with the skills that are required for the job. 

Job Experience

– Do you have years of experience as a customer service representative? Are you a former teacher?

Availability

– Are you willing to work on a certain schedule or you want to work on a flexible time? Some jobs would require you to follow a schedule while others are flexible.

Voice, Non-Voice or Mixed –

What is the nature of the job? Would I be required to talk via headset 100% of the time? Would I be comfortable doing this with a kid at home?

Do you have a quiet area at home that will allow you to make phone calls? Some jobs such as Online English Teacher or Customer Service Representative would require you to have a quiet background while working.

Freelance –

This means you are working for different companies at different times rather than being permanently employed by one company.

Full Time –

This means you are willing to dedicate at least 40 hours a week for work.

How many hours do I need to spend working?The hours that you need to spend working would depend on the type of employment you choose to apply for. Below are the Types of Employment:
Full Time – This means you are willing to dedicate at least 40 hours a week working.

Part-Time –

This means you are willing to dedicate at least 20 hours a week for work.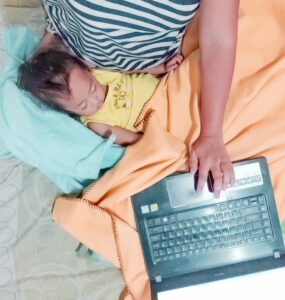 When I initially applied for a job online, I sent a resume to work as an online English teacher and was immediately hired. However, after attending my first meeting with the company representative with a crying 3-month-old baby, I realized that it wasn't for me so I didn't push through. I also thought of applying as a Customer Service Agent because I have years of experience in the industry but I realized that would also require me to have a quiet background and it's not really something that I enjoy doing. While browsing for jobs, I decided to apply as a Content Writer for one reason: I love writing and this job won't require a quiet background. So, even though I don't have any working experience as a writer, I decided to apply and I luckily got hired. I'll share more tips on how t land a job as a Content Writer and as a Social Media Manager in the future 🙂
Anyway, if you don't have any working experience and you don't have any known skills yet DON'T WORRY. That doesn't mean you can't work online. Mothers are the most motivated people I know so if you are willing to learn, just show your eagerness during the interview. A lot of clients are willing to teach newbies because the starting rate is more affordable so don't lose hope. It's really just a matter of showing them how highly motivated you are. 
2. Prepare equipments and tools that you need to work at home
The equipment that you need really depends on the kind of job you would apply for. Some clients/businesses require a certain speed internet speed, headset, PC storage and others. Below are some of the equipments and tools that you might need:
Internet Connection –

  Again, this depends on your employer and the job requirement. Most companies and clients, of course, would require at least a DSL Internet Connection to ensure you would be able to perform the job that needs to be done without internet issues. Some jobs would even require you to test the speed of your internet before hiring you. 
Question: Can I apply even if I don't have a DSL Internet Connection? Try to send out an application to job hirings that do not require a certain internet speed or if you really want a job and you think your internet will work well anyway, there's no harm telling your client about your situation and see how it goes. 
Desktop Computer or Laptop –

Depending on your client, they may require computers that have certain specifications such as:
 * CPU Core Processor (at least an Intel Core-i5 but core-i3 is still acceptable to some), 
* RAM (memory) of your computer to see if it can run smoothly. 
* PC Storage and others
* Software, Some clients would require certain software or applications on your PC as a part of the job. It could be Skype, Dropbox, Adobe and others.
Question: Can I apply even if I don't have a computer yet? – If you can borrow a laptop or a desktop, then YES YOU CAN. I didn't have my own laptop when I started. I just borrowed my husband's laptop in the first month and bought my own laptop after a month of working. I even heard stories of people who would go to a computer shop just so they can work in the first month and invest in a laptop along the way.
Question: Can I work on my mobile phone instead? – Some clients and jobs (example: Social Media Manager) would allow you to work using your mobile phone but most jobs would require you to access a computer.
Question: Which is better? A Desktop or a Laptop? – If you can have both, that's better but if you can only have one, then it's better to have a laptop so you can still work anywhere, anytime even during electrical outages. 
* Headset – If you are required to make and receive phone calls. Some clients and companies might require you for certain types of headsets such as noise-canceling headsets. In my case, I only use earphones when I meet up with clients once a week. 
* Work Station – Not necessarily, but it will surely improve your productivity if you have one at home. This is something you can invest on once your job is already stable. 
Again, depending on the job description, your client may require you for other equipment that's why it's important to read the job description before applying for a job.
3. Prepare your Resume, Cover Letter and Portfolio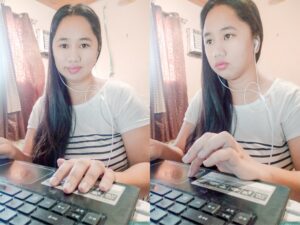 Applying for a job online may look similar to applying for an office job but the approach is different in a lot of ways. It is important to understand that when a client posts for a job opportunity online, he/she might receive 100 or more applications so it's important to stand out from the rest. Below are some things that you need to prepare.
Modern Resume

– Unlike the regular resume, modern resumes are trendy and can potentially show your personality. Download Canva and search for Resume to get templates to see what I mean. Save your Resume on as a file on dropbox so you can share the link whenever anyone asks. 

Catchy Cover Letter – The more catchy your cover letter is, the more you'll get the attention of your potential client. Here's a sample cover letter from Job Hero
Portfolio –

This is optional but if you can create a website, a blog that talks about you, your accomplishments on your previous jobs and showcase your work as an artist or as an experienced freelancer, then it's a good advantage. 
Communication Tools –

 Once shortlisted, your potential employer might schedule you for an interview so it's good if you can have an account on Skype, Zoom or Viber. 
CONFIDENCE –

An impressive resume might be an advantage but, your confidence plays a big factor if you'll get hired or not. Be confident and honest. You may have no experience in this field at all but if your client sees your wit and confidence, they can hire you. Everyone was once a beginner so don't let your lack of experience affect your self esteem. 
QUESTION: Do I need to be good at English? 
Answer: It depends on the job description. Some clients would include that they need someone with perfect English but if they don't, basic knowledge would do. Most clients (especially those who are hiring from onlinejobs.ph would not expect perfect English communication skills) so don't let that hinder you. Tips: A lot of websites and applications such as Grammarly can help you correct grammar when you are writing content so that's won't be an issue. When it comes to verbal communication, try to watch as many English movies and TV Series so you can get familiar with their language and culture too.
4. Create an Account on different Online Job Platforms
There are a lot of platforms wherein you can apply for a job. Below are some of the reliable platforms that you can checkout. All you need is to create an account and validate your profile to start applying for a job. 
Upwork – One of the most popular platforms. It's best to get freelance jobs here because clients are verified.

https://www.upwork.com/

Onlinejobs.Ph – A dedicated website for Filipino Virtual Assistants. Clients go here to hire Filipino VAs. You will see fewer jobs here compare with Upwork but that means that you also get less competition.

https://www.onlinejobs.ph

Hubstaff and other online platforms

Facebook Groups – Yes, some clients post-hiring opportunities on Facebook Groups.

Referrals – If you know someone who works at home. Ask them if they need

more people.
Note: No matter how reliable a platform is, it's still best to do some research on the client or business who is hiring you to make sure that you are getting a legit job offer. Yes, unfortunately, there are some scammers out there who would trick you into getting a job done and won't pay you after. 
Send out applications!
Below are the steps on how you can apply for a job in summary
Create a profile on an online job platform such as Upwork or Onlinejobs.ph

Build up your profile by making sure all the necessary information are complete

Create a Modern Resume and a Catchy Cover Letter

Look for the best fitting job for you

Send out your applications!!!!!
Question: How do I know if the job posting isn't a scam? –
Do a background check on the person/company who is hiring you by searching about them online or by asking people on some Facebook Group to get other people's advice. (without of course showing too much information about the client)

Once hired, ask your client politely or make an agreement with the client to pay you on your first week of work to establish trust.

Avoid jobs that would require you to pay before they hire you. That's a red flag.

Avoid clients who would ask for sensitive information such as your email password, bank account information and others. 
There are a lot of legit job opportunities out there but it's not wrong to be extra careful to save your time and effort.
Question: How will I get paid? – Most clients are from outside the country so they can either pay you through Money Remittance (Western Union), Online (Paypal) or other ways such as TrasferWire. They can either pay you per hour, per week or per project depending on the arrangement. 
7. Additional tips on how I can make this happen
Just believe in yourself.

It sounds so mushy but it's true. When I first applied for a job, I don't know what I was doing. I was shortlisted for a job position with 20 other candidates who mostly experienced VAs/Content Writer but I got hired. The biggest factor was my confidence during the interview as per my first client.

Be Patient.

Some people get hired after a day or two while others, take months or years before they get hired. Sometimes, it's a matter of skills, other times, it's just really a matter of luck. Whatever the reason is, just be patient. Send out applications without any expectations to avoid heartaches. Evaluate yourself, your resume, your approach, change it a bit until you figure out what works best. You'll get that first job soon!

Keep on Learning.

Whether you are already a pro or just starting out, the learning never ends. Try to learn as many skills as you need to get more clients. I, too, try to learn a thing or two each day so I can add something in my resume. 

IMPORTANT: Join a SUPPORT GROUP

The only support group that I have ever joined is FH Moms on Facebook or Filipina Homebased moms. They have free tutorials, courses and you'll get a lot of helpful tips there. I learned most of what I know from that group. They also have a paid mentorship program if you need guidance that can guarantee success in this field. Join this group and be inspired!

Lastly, JUST DO IT.

I know you'd see a lot of potential hindrances but if you really are determined in making this happen, just do it! Stop making excuses and just hit that Send Application button!
Disclaimer: Again, I'm no expert on this but the above information is just a combination of what I know and some internet research to compile everything for you, mommies.
Woooah! That was a very long read and if you did read it all, congratulations! That means that you really are serious about making it happen. I tried to answer as many questions as I can but I know that's not complete yet. I will be writing more blog posts and tips about this topic in the future but if you have any questions, feel free to leave a comment below and I'll try my best to answer. 
Thanks,
@mommyerikajane