5 days to go before Christmas! Do you already have gifts for your loved ones? If you have not prepared gifts for your loved ones yet, don't worry, you can still order online and have it delivered to them!
One of my realizations during this pandemic is that it's important to make wise and practical decisions when it comes to purchases. So, when giving gifts, I make sure that I buy my loved ones something that would be beneficial for them!
So, this Christmas, give the gift of good health! One example of a great gift idea is buying Similac Gainschool HMO For Kids Above 3 Years Old from Shopee's Mom's Club. Similac Gainschool is a nutritional supplement powder drink clinically proven to provide a hard-to-feed child optimal nutrition for healthy growth, development, and immunity. It now comes with HMO, an important immune-nourishing ingredient that is essential in protecting a child's gut and beyond. Check it out now while it's on sale on Shopee!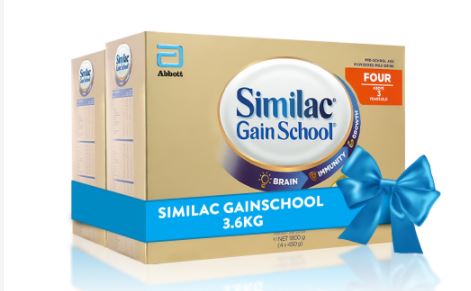 Here's a piece of great news! Are you already a member of the Shopee Mom's Club?
If you are, you can enjoy exclusive huge discounts with Abbott!
The Shopee Mom's Club is a community created to provide the best deals, so parents and soon-to-be parents can give the best to their children.


Here are some benefits of being a Member of the Shopee Mom's Club:
You get Welcome Gift, Exclusive Discounts & Voucher
You can easily find the items through our Curated Collections
They conduct Mom-centric Livestream topics
You can enjoy Brand Exclusive Discounts!
Enjoy huge discounts with Abbott at Shopee Mom's Club!

Become a Shopee Mom's Club member now! Sign up at https://shopee.ph/m/mom-club to get your exclusive deal from Abbott now!