The noche buena and gift-giving traditions are both huge parts of the Pinoy Christmas. However, let's face it: the holidays can get costly. 
Since every peso counts, we always keep an eye out for exclusive deals to get the most out of our holiday budget. If you're a frontliner, here's a special treat—a way of saying "thank you" for your hard work. The Shopee Bayanihan: Frontliner Holiday Package offers an exclusive digital package that includes Shopee discount and free shipping vouchers, ShopeePay bills cashback vouchers, and discounts from participating merchants such as Ultra Mega Supermarket, Shawarma Shack, Moonleaf, Tapa King, and National Book Store until January 9, 2022.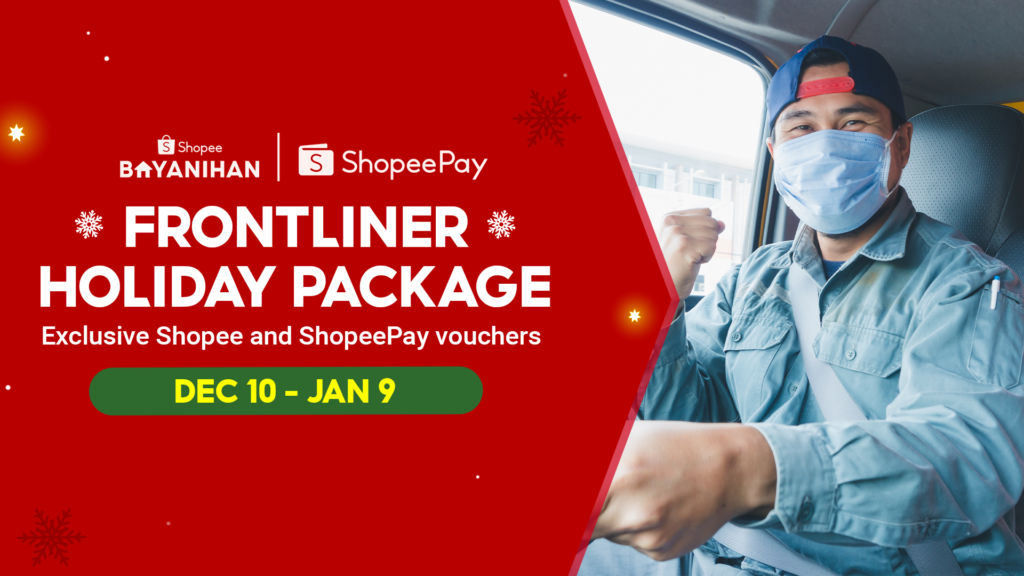 Eligible frontliners include: Health Care Workers (hospital admin and janitorial services, health and service personnel in LGU facilities); Medical Professionals (doctors, nurses, medical technicians); Policemen, Military Personnel, Coast Guards; Hospitality Sector Workers (restaurants, hotels, bars, travel Agencies); Government Agencies (LGU workers, admin staff); Delivery and Logistics Providers (food, restaurant, medicine, and logistics company drivers and riders); and Security Guards and Mortuary Services Personnel. Don't forget to sign up here to qualify: https://shopee.ph/m/frontliner-holiday-package. 
Here are some ways to make the most of your holiday celebration:
Feast like royalty because you deserve it
After a year of hard work, reward yourself with great food and good company. Treat your loved ones to Filipino comfort food at Tapa King or meet up with your colleagues and bond over delicious snacks at Shawarma Shack. Once you've gotten your fill, head over to Moonleaf and indulge your sweet tooth with their Okinawa or Wintermelon Milk Teas.
Surprise your family this noche buena 
Elevate your dinner table by preparing traditional handaan favorites with a twist. Instead of the usual mango float, take your dessert game up a notch and impress your family with no-bake queso de bola cheesecake topped with chocolate shavings. Ultra Mega provides a selection for every budget—perfect for anyone looking for the best grocery finds without breaking the bank. 
Score deals as you wrap up your holiday shopping
Still looking for holiday presents? Take your pick from National Book Store's bestsellers list, where you're bound to find the perfect match for every literary taste, or scout their school and office essentials. 
Add to cart and enjoy discounts, cashback, and free shipping vouchers with the Bayanihan package. As an additional treat, new Shopee users will also receive a free shipping voucher and an additional discount voucher for their first Shopee purchase. 
Activate and cash in ShopeePay to avail the Frontliner Package at https://shopee.ph/m/frontliner-holiday-package. With ShopeePay, you can also get daily exclusive deals on load, bills and ShopeePay P1 Deals. Enjoy free cash ins and bank transfers via InstaPay, when you get up to P25 cashback on your InstaPay fee after cashing in. Additionally, if you haven't had the chance to go Christmas shopping for your loved ones, why not pay for their next Shopee purchase? Send money for free to any ShopeePay user with ShopeePay, and personalize your transfers with a themed virtual card. Stay updated on the latest ShopeePay promos at https://shopee.ph/m/shopee-pay.