A few weeks before Christmas, are you done shopping for gifts?
I know that you have a long list of inaanak, relatives, friends and neighbors that you want to make happy this December because the Holiday, after all, is known to be as the season of giving. But, how do you level up your gifts? How do you make your gifts extra special and meaningful despite the holiday rush? The answer? PERSONALIZED GIFTS!
- Advertisement (300x250) -
Who else loves personalized gifts? Nothing spells love than seeing a unique gift that is made especially for you. This is why I listed down 10 unique personalized gifts that you can give to your little one, inaanak and pamangkin this Christmas!
1. Personalized Bibs from @Bibs_Manila
https://bibsmanila.com/
– If you're a mom, you would know that a bib is a must-have! My little drool factory needs to wear a bib whenever we go out. The great thing about bibs manila aside from the fact that you can personalize it and add your baby, inaanak or pamangkin's name is that you can also choose from a wide variety of cute designs on their website! Not only that, the quality of their bib is great too. It is extra soft and thin so your baby won't mind wearing it. A personalized bib is just 160 pesos each.
2. Personalized Onesies
Fact: Babies wearing personalized onesies are super adorable! Allyka has this onesie from Audrey's Gift Shop with her name embroidered on it and we love it! It doesn't fit Allyka anymore but I'm definitely keeping and even planning to frame it as a memorabilia. A lot of online stores offer personalized onesies but I love how dainty and good quality the onesies from Audrey's Gift Shops are. Note: You might need to order before December just to make sure that you receive your orders before Christmas.
3. Personalized Baby Dove Body Wash and Lotion
Are you a Baby Dove user too? Allyka's first soap was Baby Dove and it's the body wash that we currently use on her. We love how Dove keeps Allyka's skin moisturized. Anyway, did you know that you can order a Baby Dove bottle with your baby's name on it? Yes, you can! Baby Dove sent us some products with Allyka's name on the packaging and I felt nothing but kilig. I don't know why but it's just too cute. Not only will you be making a mom happy with this gift, but it's also practical and it's also the perfect Baptismal Gift. These bottles and gift packs are available for ordering at https://mybabydove.com.ph/ until December 6 💙
4. Cute Toddler Backpacks from @FunnestPh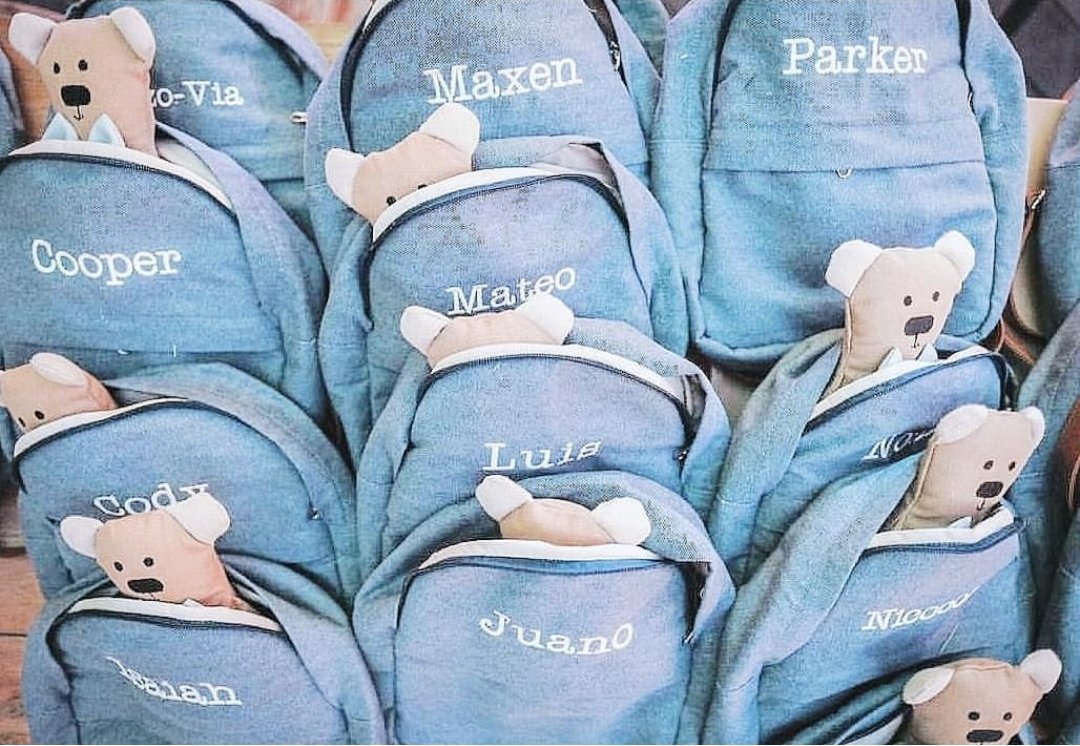 If you don't know Funnestph. you better check them out on Instagram because you will find the cutest stuff there. The CUTEST! They have this cute yet chic looking backpack that is perfect for your little one's OOTD! A gift that your inaanak and pamangkin will truly love! While you are on their website, make sure to check out their Christmas Line Collection too! https://funnest.ph/collections/christmas
5. Personalized Lunch Kit, Pencil Case & Bottle Holder @whimsicalmnl
Yeah, you can always give your inaanak some cute lunch box or pencil case with their favorite cartoon character on it but do you know what's even better? Customizing it with their names on it! Hindi na madaling mawawala, thoughtful pa 🙂 Check out these products from @whimisicalmnl on Instagram!
6. Personalized Blanket from @happyink.ph
If you have a pregnant cousin or a little baby in the family, this is the perfect gift! Their blanket with the printed design of their little one's name on it is just too cute for words! This is the perfect blanket for any baby's first photo. Check them out!
7. Personalized Non Toxic Crayons @crayoloveph
Do you have a toddler who loves art time? Worry no more! These hand-poured crayons are nontoxic and are easier to grasps because of the size. They can send you a set of a crayon with your inaanak's name so I'm sure they will love this!
8. Handmade Busy Cubes @wikaninanay
Are you looking for a toy to keep your little one busy? Are you trying to avoid screentime at home? This busy cube is what you are looking for! These cubes are handmade so they can be personalized. You can request to put your baby's name on it or their favorite cartoon character. It's a toy that will surely keep your Lil one busy.
9. A Personalized Jewelry or a Christmas Tree Ornament from @lifestorycrafts
Check out these personalized earrings your little one can wear or this Christmas Tree Ornament with your baby's face to make Christmas more memorable! Their jewelry is made of high-quality materials so check them out! You can order directly from their website: https://lifestorycrafts.com/
10. Personalized Christmas Santa Sack @skylarlaneph
Level up your little one's excitement for Christmas by giving them a Santa Sack or Sock that they can hang on Christmas eve and while you're at it, play the role of Santa and fill those sock/sacks with gifts they will love too 🙂 Checkout @skylarlaneph for more personalized Christmas items!
I hope I was able to give you an idea or two in this article. Though of course, I would still want to remind you that Christmas isn't just about the presents but the presence so aside from gifts and material stuff, make sure you give your little one the attention that he/she needs not just on Christmas, but every day of your lives.
Do you want me to write an article for personalized gifts to parents too? Let me know your thoughts about this article in the comments below!
Love,